TV Size

Brand & Model

Frame Style

Wall Mount

Delivery

Calculate

Price

Cart
HIDE YOUR TV BEHIND A MIRROR
SLIPS OVER YOUR TV FOR A PERFECT FIT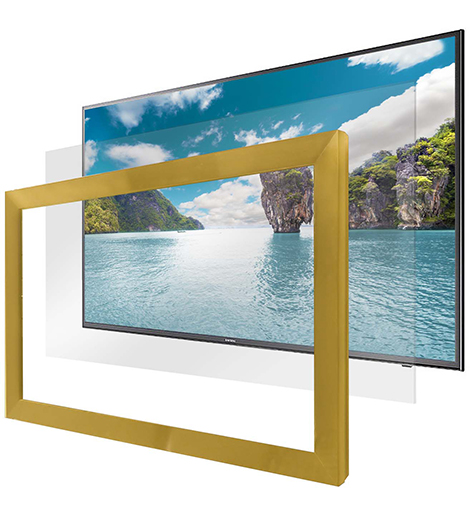 The Framed Mirror TV Kit upgrades your TV to a mirror TV. Choose from any of our elegant frame styles, and we'll customize the design of the frame to fit it precisely. Our frames are built to the exact measurements of your particular TV, they slide over the screen and lock securely into place. As a result, installation is easy and the finished product fits perfectly.
A frame kit is engineered to fit the model of TV you have, as opposed to other kits out there which are a one-size-fits all thing you need to figure out. Using the manufacturer specifications, along with our 15+ years of experience allows us to make you the perfect frame that simply locks into place. If you're after a more affordable solution, or prefer to have a local framer work on your TV, I've left you all the details down below on how we make them.
CHOOSE YOUR PERFECT FRAME
MODERN, CLASSIC, & DESIGNER STYLES
INSTALLATION INSTRUCTIONS
Installation Instructions
Infrared Repeater Instructions
PICK THE BEST FIT FOR YOUR WALL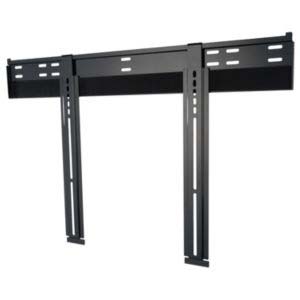 Flat Mount | Peerless SUF660P
Ultra-thin design holds screen only 0.33″ (8mm) from the wall for a near invisible application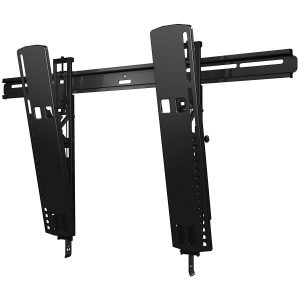 The SANUS VLT16 Super Slim tilting mount places 51″ – 80″ TVs just .82″ / 2.08 cm from the wall, yet still allows up to 10° of tilting capability.
INSTALLS LIKE A REGULAR TV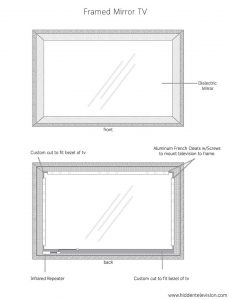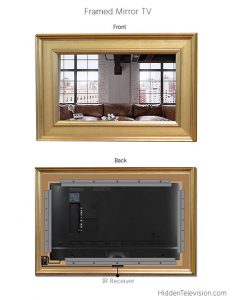 QUESTIONS? WE'VE GOT ANSWERS.
FREQUENTLY ASKED QUESTIONS
How fast can I get it?
Due to our experience, we are able to ship most orders within 2-5 days. We offer Elite Expedited Service for an additional 5% on checkout.
What is the overall size with the frame?
Simply click on any of our frame pictures for an exact size chart.
Can I recess the TV?
Yes, be sure to mention you're doing a recessed build when ordering and we will build it without a backbuild frame as shown here When recessing a television, be sure to use an in-wall ventilation system.
How good is the sound quality?
We allow a slight gap between the frame and the wall. The frame and glass don't block any of the sound, so you get the same high quality sound you'd get from any other flat screen TV.
How good is the picture quality?
We combine the brightest Samsung televisions with the most transparent dielectric mirror available to deliver unparalleled picture clarity.
Do I need to use a special wall mount?
We include an ultra slim flat wall mount, which will keep your TV within 1/4″ of the wall for a seamless appearance. Alternatively, you can choose our tilting wall mount, which is only 1/2″ from the wall.
We recommend that you don't use a normal wall mount without doing the research on it first. Most wall mounts would push the frame too far away from the wall.
How do I hide the cables?
For a seamless installation, your installer can string the cables back through the wall to hide them.
What other frame options do you have?
We're able to customize the frame to exactly what you want. Browse additional frame options at Larson Juhl and Framerica, then get in touch with us to build your perfect TV.
What is the advantage of buying the complete Samsung Mirror TV instead of the kit?
Our Framed Mirror TV Kits literally takes minutes to install and once together are as easy to install as any regular TV and are beautiful pieces of functional art. A custom project where you just buy our glass will require hiring a woodworker or cabinetmaker to frame it up, which can be expensive, require more work on your part, and often takes more time before your mirror TV is ready for use.
How easy is it to install?
Once you have added your television to the kit, the TV installs on the wall exactly the same as regular TV. You just hang it on the wall with a slim profile wall mount and you're all done! You may want to string the cables back through the wall for the best appearance. Alternatively, you can hide them with cable covers, which attach to the wall and can be painted to match it.