Height

Width

Lighting Options

Calculate

Price

Cart
The Lighted Mirror is the perfect addition to any bathroom or vanity area. This stunning mirror is designed with modern sophistication in mind, and comes equipped with built-in LED lights for a clear and well-illuminated reflection. The Lighted Mirror is the ideal solution for anyone looking to improve their daily grooming routine with a touch of elegance and style.
SLEEK, MODERN AND ENERGY EFFICIENT.
Featuring a sleek and contemporary design, this mirror is perfect for everyday use, as well as special occasions and events. Our default option comes with dimmable lights and you can customize how warm or cool the lighting is so it matches the rest of your room perfectly.
Using a waterjet, lighted mirrors can be cut to the exact size and shape you need for your wall. They can be sandblasted to the pattern that appeals to you, such as double bar or perimeter lighting. The color temperature can be controlled from 3000-6000 Kelvins, providing a customizable warm or cool lighting level that's comfortable and beautifies your room.
A FLAWLESS REFLECTION, ILLUMINATED PERFECTLY.
Before production, we provide drawings from each angle so you can verify every detail before it's made. Some of the most commonly ordered shapes are rectangles, circles, arches, and ovals. The mirror can be ordered frameless or you can choose your perfect frame.
Built-in dimmable LED lights
Custom sizes built to fit your bathroom
Any shape is possible
Circles, rectangles, ovals, and more available
Frosted and backlit options
Durable and long-lasting
Easy to install
Waterproof remote
Fog resistant
Clear and well-lit reflection
Guaranteed quality
DIMMABLE & BUILT TO YOUR CUSTOM DESIGN
Frosted and backlit options are available. We can customize the thickness of the frosted lighting, as well as the design. Usually our clients go with a 2″ thick frosted surface but it is completely up to you. Contact us with any design ideas and quote requests at sales@hiddentelevision.com.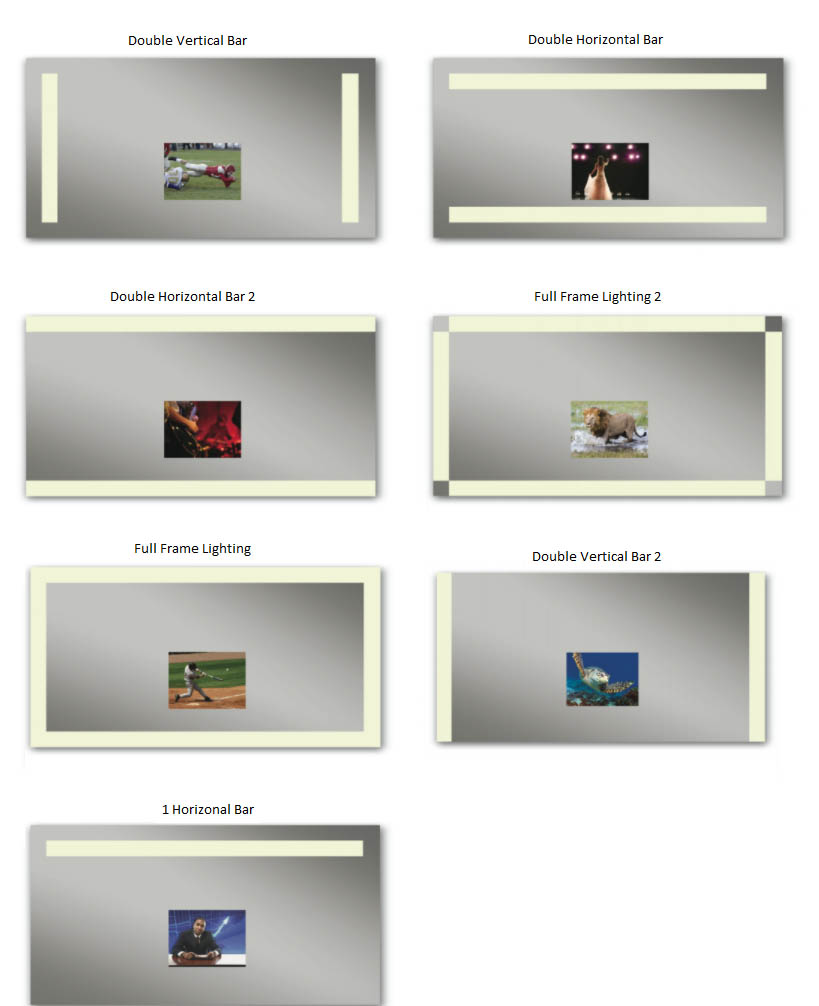 QUESTIONS? WE'VE GOT ANSWERS.
FREQUENTLY ASKED QUESTIONS
Do I have to be a celebrity to order one?
Our exclusive clientele not only consists of renowned celebrities, but also esteemed businesses, elite interior designers, and discerning homeowners with impeccable taste.
What is the lead time?
Our artisans craft bespoke vanity mirrors tailored precisely to your desires and ships within 2 weeks.
Can I order it framed?
Our mirrors come standard with sleek, frameless designs and polished edges. For those seeking a touch of opulence, indulge in a personalized frame of your choosing.
KRISTA KELLY
Sales Manager
krista@hiddentelevision.com
(419) 461-0710
JAMES BAKER
Sales Engineer
james@hiddentelevision.com
(419) 787-4526