Height

Width

Quantity

Unit

Tempering

Edges

Calculate

Price

Cart

$0.00
The VanityVision Mirror is for mirror tv projects where you already have a designer, carpenter, or just love DIY, getting a custom size mirror is a great option. This mirror type is best for tv mirror projects where the tv is smaller than the mirror.
The VanityVision Mirror is ideal for use as a large vanity mirror in your bathroom mirror tv project. It reflects 70% of the light, for a brilliant reflection that people can use while putting on makeup or shaving- identical to a standard mirror! It allows 25% of the light through the mirror for a vivid picture quality that will amaze people.
6″ x 6″ VanityVision Mirror
12″ x 12″ Beveled VanityVision Mirror
12″ x 12″ Tempered VanityVision Mirror
RECOMMENDED MIRROR ACCESSORIES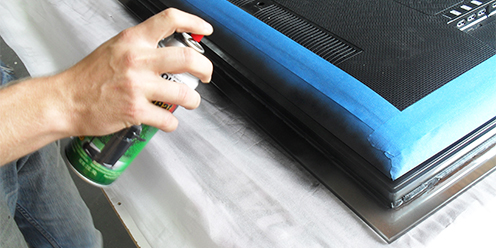 Blacking out the backside makes the mirror blend in with the TV screen. There are many different ways to black out the back side of a VanityVision Mirror. Here are our top choices:
Rustoleum High Heat (roll on or spray)
Rustoleum Ultra Cover 2x (roll on or spray)
Black Felt
Black Vinyl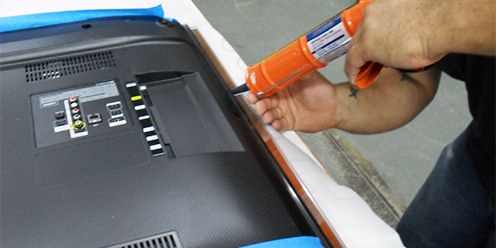 For custom mirror TV projects, it's important to use the right tools, with the weight supported at the bottom from clips or J-channel. Many glues and adhesives do not have the proper bond to adhere to glass long term. Here are our top recommendations:
J-Channel
Black Mirror Mastic Glue
VHB Tape
FREQUENTLY ASKED QUESTIONS
What is the lead time for a custom cut VanityVision Mirror?
For sizes 63″ x 96″ and smaller, the lead time is 1 day. For larger mirrors, the lead time is 1 week until shipped.
How does the VanityVision Mirror compare to a standard mirror?
The mirror coating on the VanityVision Mirror has been perfected to be a match – it looks nearly identical to a standard mirror.
How does the VanityVision Mirror affect the display quality of the TV?
It is the absolute best mirror on the market that combines a high reflection and amazing transparency at 30%. It is 3 times more transparent than other semi-transparent mirrors on the market. It is not the same as a standard Glass Two Way Mirror.
How do I mount a VanityVision Mirror?
Typically with DIY or custom projects, we recommend recessing the TV within the wall so that the mirror can be mounted normally onto the wall just like a standard mirror. J-Channels and mirror clips are the most popular mounting options.
How is the VanityVision Mirror shipped?
It ships directly from our office in Toledo, OH and can ship worldwide. For mirror sizes 24″ x 36″ and smaller, we can ship this in a box via FedEx or UPS. For larger mirrors, we have designed a custom A-frame wooden crate to ship via Freight to ensure it arrives safely. In the event something happens during transit, it is fully insured and we do send replacements immediately.
What is the difference between a sanded, polished and beveled edge?
A sanded edge is standard for all custom cuts and is perfect if it is going within a frame. For frameless installations, a flat polished edge is recommended. We do offer a beveled edge option which is usually only preferred if there are other beveled mirrors in the room where the mirror tv is being installed.