Bedroom & Living Room Mirror TV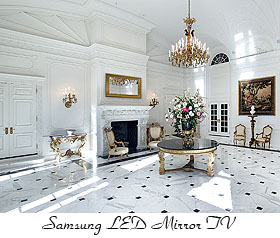 The Samsung LED Mirror TV is the cutting edge of hidden television technology. The TVs we create have flawless 4k quality and incredible brightness. Installation is just as easy as a regular TV, you can simply hang it on your wall and you're done! Because we are the manufacturer, you can buy directly from us for the best price. You can customize your frame to blend in with the rest of your room from any of our 100+ styles.


Samsung Information & Pricing »



TV Mirror - Custom Size for DIY Project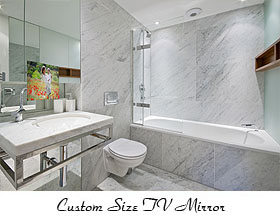 There is no need to buy the entire mirror TV if all you need is the glass. We can manufacture TV mirrors to fit your project. This is an excellent option if you are a contractor, DIY guru, or working with a local design or remodeling company to install it to match your décor. We can supply the mirrors that allow flawless HD picture quality, as well as mirrors that can be used as bathroom vanities


Mirror Pricing & Ordering »
Frame Stick Pricing & Ordering »
DIY Guide: How to frame your TV »
DIY Guide: Frameless Mirrors »


Bathroom Vanity Mirror TV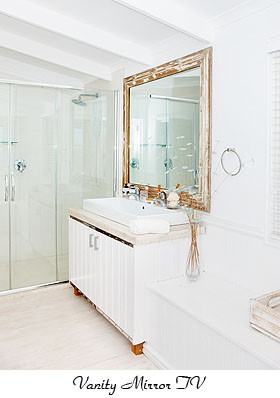 Add sophistication and elegance to your bathroom in a matter of only minutes. An ultra thin LCD TV is built directly into the custom sized TV mirror, so you'd never guess there's a TV hidden behind it until it's turned on and the television magically appears. We are able to work with you on your project and manufacture nearly any size, from small mirrors to entire walls. Many sizes are in stock and can ship today! Our vanity mirror TV couldn't be easier to install, all you have to do it hang it on your wall!
You can recess the Vanity Mirror TV directly on the wall for a completely seamless design. No worries about getting your remote wet, it includes a waterproof remote which can be used from everywhere, even your tub or shower! The mirror TV includes built-in speakers, so you don't have to worry about cutting holes into your ceiling or wall and stringing speaker cables through your walls. The edges of the mirror have a beautiful polish, so it works great either framed or without a frame. You can use any frame style you want with our mirror TV to match your style and decorative taste.


Vanity Mirror Product Information »




Table TV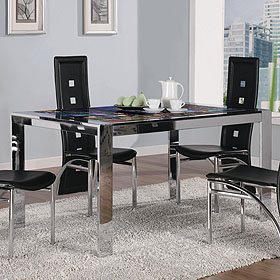 A 55" LED TV ingeniously hidden in a chrome table.
The sleek modern style of the table makes a sophisticated centerpiece in your office or dining room. Simply turn the TV on with the remote to make it magically appear through the surface. The TV includes Samsung Apps, which allows you to surf the net and do presentations using the remote, which has a built-in keyboard. The chrome table top matches the legs for a bold and attractive appearance. The glass and steel components blend seamlessly together, creating a unique addition to any space looking for a focal point to attract attention.


Table TV Information & Pricing »


Frame Kits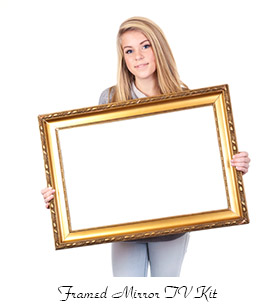 Dress up your television with a designer TV frame. Each frame is custom made to fit the exact dimensions of your particular TV model. We have the measurements of most televisions, so your frame kit can be built within only one week.
Use our frame gallery to find your perfect frame from hundreds of classical, traditional, and contemporary styles and colors. We offer a line of hand-crafted Artisan Frames for premium television framing.
Installation is a one-step process, simply place the frame over your TV, plug in the included infrared repeater, and you're ready to go!


Questions? Call us! (419) 842-4554